Hand-raised and socialized at our home on Altiquin acreage: Altiquin Dogs in Ireland is primarily interested in breeding to improve Labrador Retriever bloodlines for our own competitive trialing purposes in the UK and Ireland. For those outside of the Irish and British Isles, Altiquin Dogs willingly assists in importing our bloodlines into your country.
Stylish and athletic, each puppy is bred for health, intelligence, temperament, honesty, keen noses and working ability.
We only breed to develop our own competitive training and trialing stock. And, we sell only those that are surplus to our requirements.
Although we would like to guaranteed our pups for hips, we cannot and refer you to the extensive medical literature on the subject: About Hips and More About Hips. (link is coming)
More specifically, we are referring to the unfortunate fact that 2 out of 10 puppies born of so called HD-free parents will develop hip dysplasia. Even when using the OFA (Orthopedic Foundation for Animals) method of hip evaluation, sadly there is still a 20-25 percent chance of producing a puppy with CHD (canine hip dysplasia). Moreover, dogs must be two years old or older to get an OFA hip evaluation rating. With the PennHip Method of evaluating a dog's hips, all x-rays must be taken under anesthesia to provide the greatest amount of muscle relaxation. There is a risk involved. Some dogs never come out of the anesthesia.
However, we DO guarantee that both sire and dam have excellent hip scores. Naturally, we guarantee our puppies for health and quality pedigrees. In addition to our rigourous, on-going health maintenance program, each pup is individually examined by a veterinarian before departing Altiquin for its new home.
At Altiquin Dogs, it is health and bloodlines of proven field trialing quality, not quantity that matters. Read about a pup's life at Altiquin below.... (link is coming)
Importing
Importing into your country: For those outside of the Irish and British Isles, Altiquin willingly assists in importing our bloodlines into your country. It is not as complicated nor expensive as you think. We export to most nations.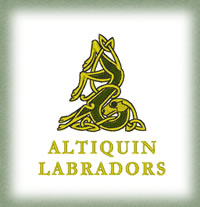 Costs: Since the terror attack of September 11, airlines have radically increased the price of shipping a dog unaccompanied via cargo. To avoid unnecessary costs, we recommend transporting a dog as airline excess baggage, accompanied by a passenger. That passenger can be you or us, depending upon our schedule and commitments at the time. If you pay our expenses, we may be able to bring your dog to you. Ask us. We are not always free to travel and be away, but sometimes we are.
The international excess baggage fee for a dog traveling in an airline-approved dog kennel, payable directly to the airline at check-in, is approximately US $300.
Just be aware of the Pet Embargo that exists at DELTA from May 15 thru Sept 15 when traveling with a pet as 'excess baggage'. Due to warm temperatures, pets cannot be 'excess baggage' during these dates (although they can travel during these dates with or without a person as live animal cargo in climate-controlled sections of the aircraft).
To Get Started: Just call the reservations dept of the airline of your choice. Tell them you want to travel WITH your pet as excess baggage. To avoid any additional animal cargo expenses, Pick up the phone and inquire...you must fly all segments of your journey with your pet with the same airline company. It is when different airline companies are involved in getting you & your dog from here back to your home that extra cargo charges apply.
Information You Need to Book Your Pet on Your Ticket: You need to reserve the space in the aircraft for your pet BEFORE your departure date. Do not simply arrive at the airport with your pet and expect your check-in to be smooth and your pet to accompany you. When you phone in advance, the airline reservations will ask for the name, breed, date of birth, the dimensions of the dog box, and the weight of dog & carrier combined. Keep in mind that not all dog boxes are airline-approved. To avoid problems with the airline carriers, we source and sell on dog travel boxes as an additional service.
2" clearance above head in travel box is critical..Pups and some spaniels usually travel in boxes that are 36" x 24" x 26" (86 Linear Inches) with a crate weight of 23 lbs, and, Volumentric Weight of approximately 65 KILOS. It is the Volumetric Weight that will determine Airline Cargo Charges.
Labrador Retrievers, big Spaniels, and Irish Setters travel in boxes that are 40" x 27" x 30" (97 Linear Inches) with a crate weight of 27 lbs.
Weather: Seasonal fluctuations affect pet travel planning...Temperatures on the ground and in the air determine whether an airline will accept live animals in their hold. According to DELTA (USA), pets CAN TRAVEL with a passenger as excess baggage between September 16 thru May 14. (This is Delta's policy. Check other airlines. Each one has their own policy.) However, pets should never be accepted if the temperature at any time during the journey is forecasted to reach or exceed 85 Degrees Fahrenheit (29 Degrees Celsius), or, to drop to or below 45 Degrees Fahrenheit (7.22 Degrees Celsius). EXCEPTION: Delta (USA) WILL ACCEPT animals as checked baggage at temperatures below 45 Degrees Fahrenheit (7.22 Degrees Celsius), but not lower than 20 Degrees Fahrenheit (6.66 Degrees Celsius), IF the accompanying passenger has a *Temperature Acclimation Statement* signed by the attending veterinarian. This Temperature Acclimation Statement must be dated no more than 10 days prior to the departure. In addition, this Acclimation Statement must state that, to the best of the vet's knowledge, the traveling animal is acclimated to air temperatures lower than 45 Degrees Fahrenheit (7.22 Degrees Celsius) www.weather.com but not lower than a minimum temp to be specified on the statement by the veterinarian based on generally accepted temperature standards for the breed, age, and condition of the animal. The passenger must retain this Temp Acclimation Statement after the animal has been checked in.
Warning: Most airlines reserve the right to refuse live animals as checked baggage IF the health of the animal is in question, and/or, the health of the animal may be jeopardised by extreme conditions. Remember, this humane policy is in the best interests of the animal, and ultimately, the new owner. ALTIQUIN DOGS always has each dog examined thoroughly by a conscientious and experienced veterinarian before travel and usually has ample opportunity to observe kennel habits before exporting a dog. NO dog or pup travels without first receiving a clean bill of health, the relevent vet treatments, and a microchip, all confirmed on an Official Health Certificate.
Whether you are in the USA, Canada, Europe, or Scandinavia...
Paul David Toal of ALTIQUIN LABRADORS can help you run a successful Gundog Workshop, Dog Training Workshop, Mock Hunt Test, or Mock Field Trial, introducing Irish and British training methods if desired.
To avoid disappointment, we strongly recommend you to coordinate and book him EARLY to reserve his time for your group event.
About Paul David Toal...
Back in 1986 --- over 27 years ago --- I joined the British and Irish Field Trial competition circuit because of my competitive nature, love of field trialing, and vast experience in raising and training gundogs, training dogs.
To compete against the best handlers and trainers from Ireland and the British mainland gives me such a thrill, not to mention a constant source of valuable new insights. To participate as a Field Trial judge for the Irish Kennel Club in the Republic of Ireland and the English Kennel Club in Northern Ireland adds an awesome responsibility to my endeavors with dogs.
From the very beginning, our primary goal at Altiquin Dogs has been to cultivate and nurture impeccable Irish and British pedigree dogs, in particular Labrador Retrievers. With the tremendous amount of experience we have had in professional dog training, handling and competition, we are able to objectively evaluate our litters and prospective breeding stock.
We breed only those dogs that pass our exacting standards for natural hunting ability, intelligence, physical soundness, temperament, honesty and conformation.
We especially value and seek to cultivate calm, quiet, collected dogs with great noses, dogs that are genetically free and clear of health issues, to the best of our knowledge.
ALTIQUIN understands the needs of the field trialing and shooting man and woman. We understand and share that need for a high-quality canine working companion.
Topics covered in Field Trialing Training Workshops include:
The Art of Handling a Dog

in the Field

How To

Train Puppies and Novice Dogs

Organising and Conducting

a Working Dog Field Test

A Dog's Perspective

on... *vision (color, distance) *handling (voice, whistle, signals) *mixed signals *wind & weather *physical fitness/stamina/muscle tone *trust & confidence.

The Human Perspective

on... *quietness & poise *handling (voice, whistle, signals) *mixed signals *wind & weather *physical fitness/stamina/muscle tone *trust & confidence.
A sample itinerary for a Friday session looks something like this:
Introduction to Field Work
Steadiness Work
Water Work
Heel Work
Straight Lines leading onto Blinds
Whistle Work and Taking Direction
Trailing Scent
The Saturday itinerary generally concentrates on Dog Handling Skills:
which are perfected through using a number of tests, such as
jumping over a wall
jumping a fence
crossing ditches
crossing straight lanes / paths / roads
entering cover
retrieving in water
marked retrieves
blinds
distractions
double marks
and the like
Mr. Paul David Toal always offers feedback on the positive skills of each handler and the reactions of their dog under different circumstances.
Paul is a strong supporter of those entering into this sport who may not know their way yet. Mentoring is what he does.
Workshops like these are always a grand success and a very profitable learning experience and a source of enjoyment and encouragement to all the attendees. Come and join us! Or, sponsor one for your own region....
We would be delighted to assist you.
***********************************************
In a nutshell, ALTIQUIN DOGS is the fruit of Paul's love of Hunting Labrador Retrievers, his efforts in Field Trialing, and sheer undaunted faithful Diligence.
We personally care for every aspect of every ALTIQUIN DOG. Working dogs are our passion.
With over 27 years experience in raising and training gundogs, training dogs, we have the expertise to provide you with a great hunting companion, or excellent raw material, depending upon your needs.
Upon request, Paul will personally mentor you and train your dog to be a better hunting companion on duck, pheasant, woodcock, snipe, grouse, and rabbit.
As a true working and sporting dog lover, Paul will also answer any of your individual questions freely. Simply drop us an email. We will respond personally.
Because of our daily involvement with working dogs, training schedules, handling, trialing, and breeding, Altiquin Dogs frequently has pedigree pups, as well as partly trained dogs, fully trained dogs, started dogs, and finished dogs .... Labrador Retrievers at EVERY level of training for sale.
www.YouTube.com/altiquin ....
Visit our YouTube Channel to view photos and pedigrees. It displays the calibre of the dogs we breed, train, handle and sell. Drop us an email to inquire about our current stock or, even better, call us.
Prices:
Each dog is priced according to its own individual merits. All pedigrees are not the same, and well-trained dogs are worthy of a respectable price.
A dog's value depends upon the following factors:
pedigree / bloodlines
age
level of training
field trialing (competitive) experience
experience at commercial shoots
Kindly contact us for specifics relative to each dog.
Photos and pedigrees, on request.